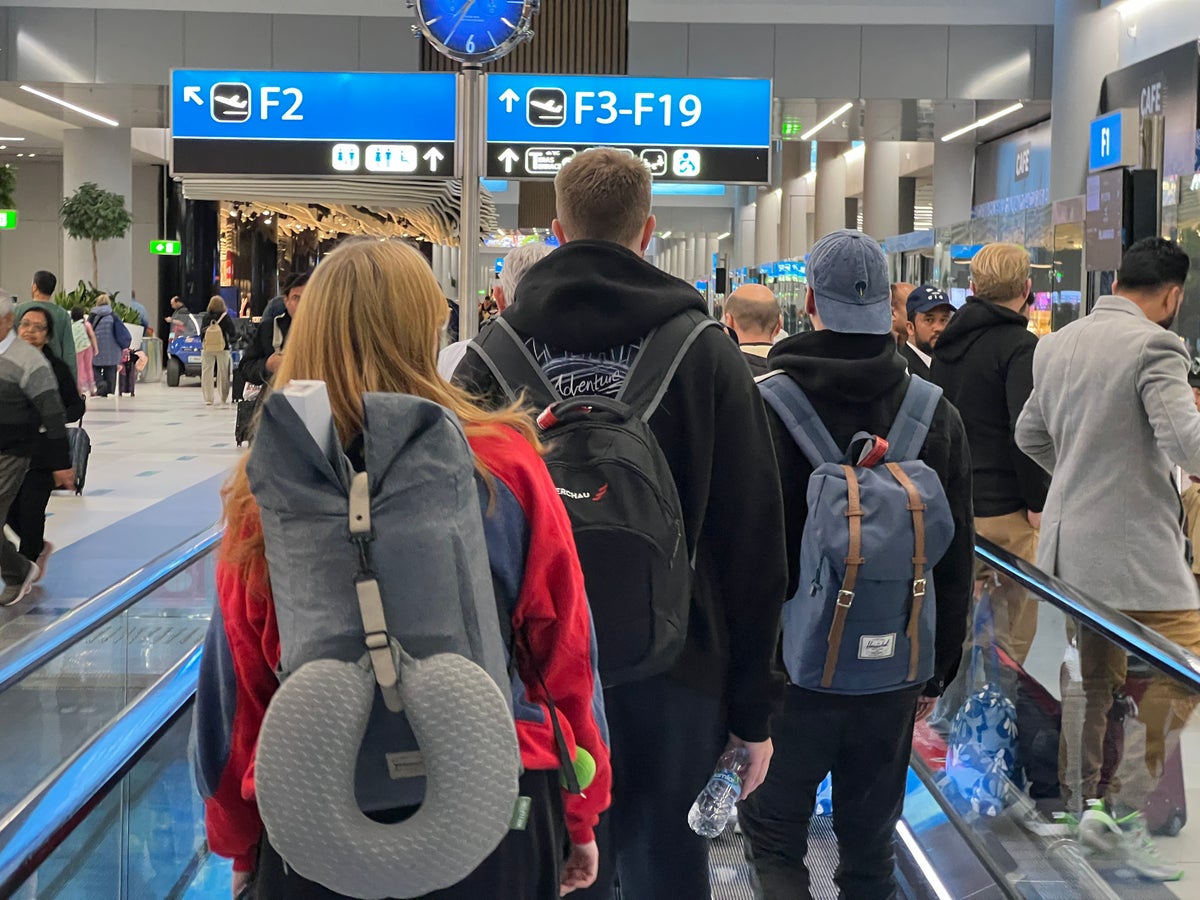 Transport strikes, rail engineering work and traffic congestion are combining to make Easter 2023 a very challenging time to travel.
British Airways has made dozens of flight cancellations due to a walk-out by 1,400 members of the Unite union working in security at Heathrow airport.
French air-traffic controllers – who look after airspace used by tens of thousands of British passengers every day – continue to cause delays and cancellations of European flights. Italian aviation workers will strike on Sunday, causing more disruption.
While most holidaymakers will get away without undue delay, British travellers are encountering high air fares and package prices abroad. Air Passenger Duty is halved on Saturday 1 April, making travel within the UK cheaper.
But those seeking a city-break at home could be among the first to pay a tourism tax, applied from 1 April in Manchester.
How likely is it that your Easter getaway will be impacted by transport issues? These are the key questions and answers – starting with strikes.
How disrupted is Heathrow airport?
Most passengers are travelling normally. The walk-out by security workers at Terminal 5 continues until Easter Sunday, 9 April, unless an agreement is found. It has caused the cancellation of 32 British Airways flights every day; BA has also grounded many more on the first day of the industrial action, Friday 31 March, but for reasons unconnected with the security staff strike.
Heathrow airport is telling passengers to turn up no earlier than two hours before European flights, or three hours before intercontinental flights.
British Airways from Terminal 5 is the only airline/airport combination in the UK where a stoppage is taking place; anyone flying from another Heathrow terminal or a different airport should travel as normal – subject to industrial action elsewhere.
What strikes are happening in France?
The skies above France are the main concern. Air-traffic controllers have joined the nationwide campaign against President Macron's proposals to raise the French retirement age from 62 to 64. Campaigners believe the social and economic effects on the rest of Europe will add foreign pressure for the pensions reforms to be abandoned.
Flights from Germany to Portugal, the UK to Spain and Ireland to Italy cross France (or, these days, take expensive, polluting and time-devouring diversions to avoid the troublesome skies).
Ryanair – Europe's biggest budget airline – is warning passengers to anticipated delays and cancellations on flights to, from or over France until 8 April. The carrier says: "We apologise for any inconvenience caused by this French ATC strike, which is entirely out of Ryanair's control
"So far in 2023, French ATC have delayed/cancelled the flights of over 1.4 million passengers while the EU Commission does nothing to protect them. As a result, overflights (aircraft not flying to/from France) are cancelled while domestic French flights are protected."
Normally strikes that affect large numbers of travellers are short-lived; even the long and bitter rail dispute that has caused so much havoc in the UK for the past nine months has seen individual days targeted rather than weeks on end. Air-traffic controllers, though, are fully aware of the way their industrial muscle is magnified: more than half of easyJet's flights touch French airspace.
Michael O'Leary, chief executive of Ryanair, has warned that disruption would continue through April.
Air-traffic controllers are relatively few in number and relatively well paid. So they may well be seen as a good long-term bet by the trades union movement in France for keeping the industrial pressure on and persuading the leader to back down.
Will travellers to France experience disruption on the ground?
Quite possibly. The Foreign Office says: "Since mid-March there have been spontaneous protests in central Paris and elsewhere in France. Protests are likely to take place and could occur with little notice. Some protests have turned violent. The protests may lead to disruptions to road travel.
"There is also ongoing strike action affecting multiple sectors including transport networks. Coordinated strike action and large-scale demonstrations are next planned for Thursday 6 April. Industrial action may start the evening before the strike day and run for several days."
The US embassy in Paris warns: "Strikes by fuel industry employees have led to fuel shortages around France. Travellers may find:
gas stations closed, particularly Total and Esso
long lines — some lasting several hours — for gas stations that are open
fuel rationing in some parts of the country
bans on filling fuel cans
limited availability of taxis, rental vehicles, and some buses"
What about Italy?
Air traffic controllers will walk out in Italy on Sunday 2 April.
British Airways has grounded three flights each way between Heathrow and Milan, and one round trip between Heathrow and Rome. Typically BA uses larger aircraft on "surviving" flights to allow sufficient passengers to be carried.
Other airlines are likely to cancel or re-time flights as a result of the industrial action.
Any other plane problems?
Yes. Severe weather is expected in the central US up to and including Sunday 2 April. At Chicago O'Hare airport, cancellations have begun on Friday with more anticipated over the weekend.
When does the HM Passport Office strike begin?
On Monday 3 April, 1,000 workers at HM Passport Office are due to start a five-week strike. More than one million passport applications could be stuck in a bottleneck. It is a "significant escalation" of a dispute over jobs, pay and conditions by the Public and Commercial Services (PCS) union. The union says the walkout will have a "significant impact" on the delivery of passports as the summer approaches.
During the Covid pandemic, ministers extended the target time for passport renewals to 10 weeks, and that duration has not changed. The government says: "We are working to manage the impact of strike action, whilst ensuring we can continue to deliver vital services to the public, with comprehensive contingency plans in place."
Panic about the prospect of long waits appears already to have triggered a surge of unnecessary applications and become a self-fulfilling prophecy.
The actual tests for British passport holders to the EU and wider Schengen area – including Iceland, Norway and Switzerland – are as follows:
Passport issued less than 10 years before day of arrival in EU.
Passport expiry date at least three months from intended date of departure from EU.
For example, someone planning an Easter holiday in Spain who has a passport issued on 1 May 2013 that expires on 1 February 2024 should have no problem.
For many other countries, including the US and Australia, your passport is valid up to the date of expiry. Some nations, though, require six months' validity.
What if my passport has expired and I can't get a replacement in time?
Failure to have documents in order is not covered by travel insurance. However, if the fault rests with HM Passport Office then you may be able to claim.
It is possible that some travel companies may be lenient if the passport bottleneck becomes really serious.
Maybe I should stay in the UK for Easter?
You could do, and to encourage more airline passengers on domestic flights the government is halving Air Passenger Duty for flights within the UK from 1 April 2023.
But on the roads, the AA predicts getaway traffic will peak on Saturday (8 April) with at least 15 million journeys. With wet weather predicted, the AA is advising drivers to slow down to avoid "aquaplaning on motorways and major A-roads".
To avoid the worst of the traffic, Easter Sunday and Monday should be a little quieter.
The usual traffic jam suspects: the M25, the M5 south of Bristol, the A303 in Wiltshire, approaches to the Lake District and possibly the M20/A20 to the Channel ports.
Are the train strikes off?
Yes, the national walk-outs planned by the RMT union for 30 March and 1 April have been suspended. But widespread rail engineering work continues, especially over Easter and the end of April/beginning of May.
Network Rail warns: "There will be disruption to services on many routes between Friday 7 April and Monday 10 April 2023 (inclusive), and Friday 28 April and Monday 1 May 2023 (inclusive).
"Some train services will be affected as we work to improve the railway. So, be in the know before you go."
The most significant disruption to intercity services will be on the West Coast Main Line.
Right through the Easter weekend, no trains will run to or from London Euston. Trains from the West Midlands, northwest England and North Wales will terminate at Milton Keynes Central.
At the other end of the West Coast route, southern Scotland will be cut off from England by long-term improvement work at Carstairs.