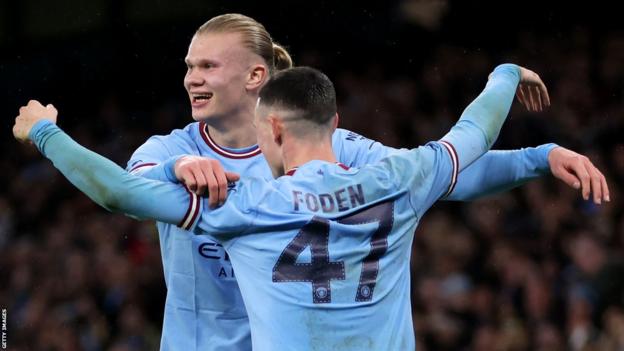 Manchester City manager Pep Guardiola says he may have to gamble on striker Erling Haaland's fitness for Saturday's Premier League game against Liverpool.
City will definitely be without Phil Foden, who faces up to three weeks out after appendix surgery on Sunday.
"Life is risks and sometimes you have to take it," said Guardiola.
"The doctors and, especially, the player will see how he feels.
"We have scored a lot of goals this season and he has scored an incredible amount of goals. But we've always scored a lot of goals since we've been here."
Haaland, who joined City from Borussia Dortmund in June for £51m, has scored 42 goals in 37 games this season, including 28 in 26 Premier League games.
City are eight points behind Premier League leaders Arsenal with a game in hand.
Foden could return for City's Champions League quarter-final first leg against German champions Bayern Munich on 11 April. The return game is on 19 April.
'Liverpool can beat everyone'
Liverpool and City have won the last five Premier League titles between them and have often gone toe-to-toe in various competitions over that period.
However Jurgen Klopp's side have struggled this season and sit sixth, seven points off the top four.
"They remain an exceptional team," said Guardiola. "My opinion doesn't change.
"They can beat everyone, like we can beat everyone.
"This season the biggest rival is another one but whatever happens in the future they are a big rival."
'Important we are fighting'
Saturday's game starts a crucial period for City, with Guardiola's side still fighting for three trophies.
Alongside the Premier League title race and Champions League quarter-final, they face Championship side Sheffield United in the FA Cup semi-finals on 22 April.
That means City face at least 13 more games this season – and could play as many as 17 across the next 10 weeks if they reach the final of both the FA Cup and Champions League.
They won the domestic Treble in 2019 and will seek to emulate neighbours Manchester United who won the Treble including the Champions League in 1999.
"I said many times, just one team has won the Treble because it's so difficult," said Guardiola. "That's why we don't think [about it].
"We have this game then a long week and then a tough schedule.
"The most important thing is still we are fighting in all competitions and that is so good.
"What we've lived in the past, there is a tendency to drop. To do it for 10 or 11 months is so difficult, still we are there."