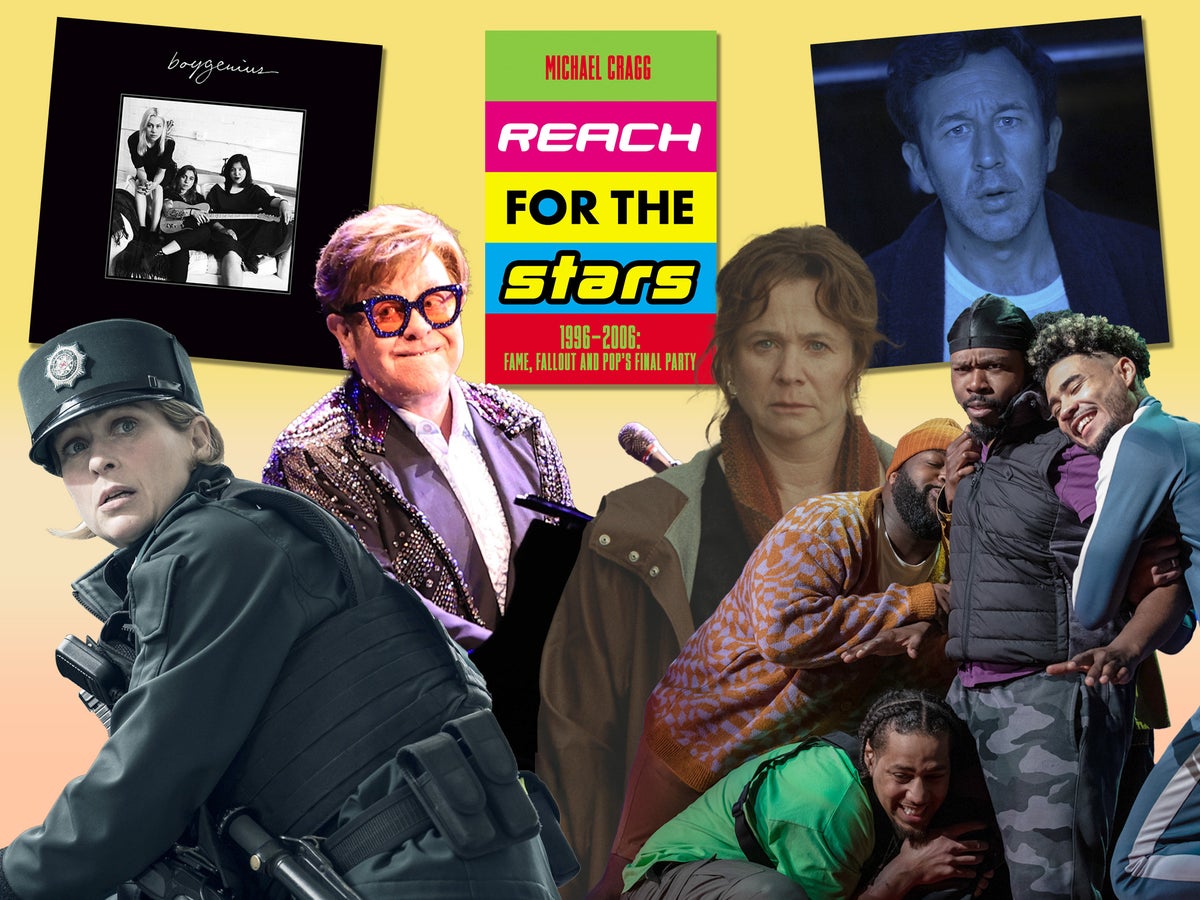 It may feel like we're heading into our sixth month of winter, but whatever the weather says, spring is technically here.
Ringing in April (hopefully sans showers), The Independent's team of critics and culture editors have hand-selected the very best TV series, films, music, exhibitions, books and theatre to enjoy over the weekend.
Chief art critic Mark Hudson heads to Dundee to learn about the history of tartan in Scotland, while TV editor Ellie Harrison checks out comedy queen Daisy May Cooper's most serious role to date in Rain Dogs. In the film arena, Adam White celebrates both artsy Mubi releases (Please Baby Please) and surprisingly good blockbusters (Dungeons & Dragons: Honour Among Thieves). Music editor Roisin O'Connor sings the praises of indie supergroup boygenius's edgily titled five-star album the record. Arts editor Jessie Thompson delves into pop music's recent past with Michael Cragg's new book and whips up excitement for the highly anticipated arrival of Ryan Calais Cameron's For Black Boys Who Considered Suicide When The Hue Gets Too Heavy in the West End.
Art
Tartan
Far from fusty, the ultimate symbol of Scotland has been one of the world's most successful and, this major exhibition argues, radical fabrics, from Vivienne Westwood and Alexander McQueen to the Bay City Rollers. Exhibits include bonnie Prince Charlie's kilt and a tartan-emblazoned example of that essential Scottish artefact: the shortbread tin. V&A Dundee, until 14 January 2024
Berthe Morisot: Shaping Impressionism
A necessary showcase for the leading female Impressionist, who has remained slightly undersung in the recent surge of interest in neglected women artists. Thirty major Morisot paintings sit beside Old Master works from the Dulwich collection. demonstrating why her swiftly painted glimpses of everyday life were so revolutionary. Dulwich Picture Gallery, until 10 September
Soutine | Kossoff
The influence of the Paris-based Belarusian expressionist Chaim Soutine on the much-loved London painter Leon Kossoff is explored in a substantial exhibition with major loans from around the world. The contrast between Soutine's luminous portraits and landscapes and Kossoff's marvellously gritty cityscapes should make a great focus for a seaside awayday. Hastings Contemporary, East Sussex, until 24 September
Mark Hudson, chief art critic
Books
Reach for the Stars by Michael Cragg
If you grew up stockpiling copies of Smash Hits magazine or taping your favourite songs off the Radio 1 top 40 chart countdown, then this is your new Bible. Intrepid music journalist Michael Cragg journeys back to the Nineties and Noughties for this nostalgic oral history of pop music, speaking to those who were on the frontline of this dizzying, dance-routined world, and those who were backstage bringing it all to life. From S Club 7 sleeping under make-up tables to Anthony from Blue hiring his own publicist and Five all secretly hating each other, the sheer volume of mad, surreal anecdotes make it unputdownable. Out now
Romantic Comedy by Curtis Sittenfeld
Curtis Sittenfeld's last novel Rodham – a fictional reimagining of what might have happened if Hillary hadn't married Bill – was panned in some quarters; her latest puts her firmly back in the territory of "queen of the smart romcom", right down to its title. A TV scriptwriter is so bored of ugly-looking men landing beautiful women, she turns it into a comedy sketch, believing it never happens the other way round. But then, of course, she meets handsome pop star Noah… (extra points for realism – Noah is such a pop star name) and the rule looks less clear cut. Out now
Jessie Thompson, arts editor
Film
Dungeons & Dragons: Honour Among Thieves
The smartest thing Hollywood can do is hire great filmmakers to adapt completely tired intellectual property. Outside of Games Workshop regulars, was anyone really crying out for a Dungeons & Dragons movie? Yet here we are – thanks to John Francis Daley and Jonathan Goldstein, the talent behind the glorious, underrated 2018 comedy Game Night, Honour Among Thieves is one of the zippiest and most purely fun blockbusters of the year. Chris Pine, Hugh Grant and Michelle Rodriguez star. In cinemas now
God's Creatures
Paul Mescal's inherent likeability is weaponised in this slow burn Irish thriller, in which a small fishing community rallies around him after he's accused of rape. Emily Watson, characteristically wind-swept and mesmerising, plays Mescal's mother, who begins to see the simmering darkness in him. This is great, visceral filmmaking – you can practically smell the oysters everyone's polishing half the time. In cinemas now
Please Baby Please
This Fifties noir pastiche has the feel of a reasonably expensive am-dram production, which sort of adds to its camp appeal. Andrea Riseborough and Harry Melling play a couple who encounter a biker gang and plunge into a lurid fantasia of gender-play and queer sex. Karl Glusman, Cole Escola and Demi Moore (!) co-star. Streaming on Mubi now
Adam White, film editor
Music
Album: boygenius – the record
The indie supergroup formed of Phoebe Bridgers, Lucy Dacus and Julien Baker get the five-star treatment from our critic Helen Brown with their debut album, the record. "The unification of the three voices – after all the difficult group therapy of the writing process – wraps a warm blanket around those fears [of self-revelation]," she writes. "And that's how the record will leave you feeling. Like you've heard some difficult truths in a very safe space." Out now
Album: James Holden – Imagine This Is A High Dimensional Space Of All Possibilities
The British electronic artist's fourth album is his most gleeful and uninhibited to date. Inspired by memories of his teenage years spent daydreaming of a far-away rave scene from his bedroom in Leicestershire, this is a record that delights in its lack of self-seriousness. Holden delves into the stifling boredom of suburban life on "Four Ways Down the Valley", sampling woodpigeon calls alongside gloopy synths and an incessant, shuffling beat. There are violin reels and frenetic whirls of brass and keys. "It's like a dream of rave, a fantasy about a transformative music culture that would make the world better," Holden says of the album. Tune in and be transported. Out now
Live show: Elton John at O2 Arena
The Rocketman finally arrives in London for the first of a staggering 10 nights at the O2 Arena taking place between April and May. So far, his Farewell Yellow Brick Road tour has been receiving rave reviews. And with a set loaded with hits from the defiant "I'm Still Standing" to the poignant "Tiny Dancer", would you expect anything else? Unless you're heading to Glastonbury this summer, this is one of your last chances to see one of the greatest showmen who ever lived. Until 30 May
Roisin O'Connor, music editor
Stage
For Black Boys Who Have Considered Suicide When the Hue Gets too Heavy
This play from Ryan Calais Cameron, set in a group therapy session for six Black men, is another reminder of how the New Diorama Theatre punches above its weight. The acclaimed play first began life there before a second run at the Royal Court Theatre – and now it's heading into the West End for a limited five-week run. Apollo Theatre, until 7 May
Berlusconi: A New Musical
Southwark Playhouse's snazzy, state-of-the-art new venue has some eye-catching programming to start it off. From producer Francesca Moody, the force behind Fleabag and Richard Gadd's Baby Reindeer, comes a tongue-in-cheek musical about controversial former Italian PM Silvio Berlusconi. In the show, he's planning to write the opera of his life – that is, until the women who knew him decide to have their say. Southwark Playhouse Elephant, until 29 April
Jessie Thompson, arts editor
TV
Blue Lights
Move over Line of Duty, there's a new cop show in town. The first episode of this Belfast-set drama is an assault to the senses and a harrowing insight into policing in Northern Ireland. It follows three new recruits to the police and is led by Sian Brooke, who Sherlock fans might remember as playing the detective's secret younger sister, Eurus. On BBC iPlayer
The Big Door Prize
Chris O'Dowd is as leggy and affable as ever in this new show adapted from the novel by MO Walsh. It tells the story of a small town that is forever changed when a mysterious "Morpho" machine appears in the local grocery store. For the same price as a cup of coffee, the glowing blue contraption promises to tell residents their "true life potential". Of course, it almost instantly sends everyone into an existential spiral. Out now on Apple TV Plus
Rain Dogs
Hot on the heels of her exquisite comedy Am I Being Unreasonable?, Daisy May Cooper is back in Rain Dogs, a new drama from Skint Estate author Cash Carraway. It's been hailed as an antidote to the dramas about the mega-rich – The White Lotus and Succession – and follows Cooper as a single mum and aspiring writer trying to get by. It also stars Jack Farthing and Ade Edmondson. Tuesday 4 April at 10.40pm on BBC One
Ellie Harrison, TV editor