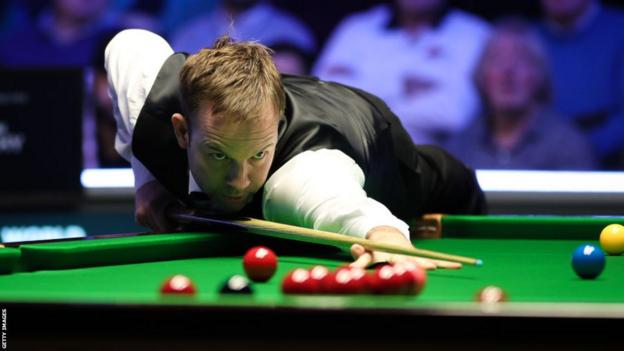 Ali Carter suggested that Whitney Houston inspired him to a first ranking title in seven years as he won the German Masters.
Carter beat fellow Englishman Tom Ford 10-3 in the final in Berlin.
Then he revealed that listening to the late American singing great had played a part in ending his title wait.
"The journey of getting through the day, all you can see is getting to 10 [frames] seeming like an absolute mile away," Carter told World Snooker.
"But you get to 10 by getting to one, to two, to three. I said: 'Just stay in the moment, forget 10, just break it all down into little bits, and step by step.'
"I heard Step by Step by Whitney Houston and it was quite a memorable song, and I just thought 'yeah, step by step, day by day' and I've got there."
Houston released a reworked version of Step by Step as a single in 1997, featuring backing vocals by Annie Lennox, who wrote and recorded the 1992 original.
Carter, whose last title was the Yushan World Open in 2016, made eight half-century breaks and one century on his way to victory.
"I am delighted to be in the winners' circle again," the 43-year-old told Eurosport.
The victory moved Carter, who also lifted the German Masters trophy in 2013, up eight places to 15th in the world rankings.
"I am really proud of the way I played," he added. "When you play the game as long as I have, you think it won't happen again, but you have to keep believing.
"I put Tom under a lot of pressure. I just tried to keep the pressure on as much as I could.
"I have a great team behind me and I just want to say thank you."
Fellow Englishman Ford, 39, was playing in his first ranking final and made a break of 121 in the first frame, going on to take a 2-0 lead.
Carter recovered to win six consecutive frames to lead 6-3 heading into the evening session, where he won four in a row to secure victory.
Having gone 8-3 down, Ford rallied in the 12th frame to take a 51-23 lead, but he missed a red which allowed Carter back in to clean up.
Carter then twice potted two reds in one shot and a break of 63 sealed his success.